Kabuki syndrome with ossification of the posterior longitudinal ligament requiring differentiation from Ehlers-Danlos syndrome: a case report with a literature review
Keywords:
Genetic mutation, Kabuki syndrome, Ehlers-Danlos syndrome, KDM6A, Ossification of posterior longitudinal ligament
Abstract
Kabuki syndrome (KS) comprises multiple congenital abnormalities and the main symptoms include characteristic facial features, skeletal and spinal abnormalities, and mental retardation. The estimated incidence of KS is 1 in 32000, and mutations in the KMT2D gene (also known as MLL2) are considered to be involved. The details of such mutations, including the mode of inheritance, are unclear. A 40-year-old woman visited our hospital with back pain and urinary incontinence. The patient had been diagnosed with Ehlers-Danlos syndrome (EDS) in childhood, on the basis of physical findings including hip subluxation. Because of her characteristic facial features, we suspected KS instead. Genetic testing revealed the presence of a rare missense mutation in KDM6A that was suggestive of KS. Computed tomography showed that she had ossification of the posterior longitudinal ligament (OPLL). On the basis of her clinical presentation and genetic mutation in KDM6A, we made a diagnosis of KS with OPLL. Hereditary diseases may share similar clinical characteristics, as in the case of our patient with Kabuki syndrome, who was misdiagnosed in childhood as having an Ehlers-Danlos syndrome involving disordered connective tissue. Physicians should undertake a comprehensive consideration of multiple clinical features when diagnosing a hereditary disease.
References
Japan Intractable Diseases Information Center. Kabuki syndrome (designated intractable disease 187). (https://www.nanbyou.or.jp/entry/4663) reference 2021.8.9.
Niikawa N, Kuroki Y, Kajii T, Matsuura N, Ishikiriyama S, Tonoki H, Ishikawa N, Yamada Y, Fujita M, Umemoto H, et al. Kabuki make-up (Niikawa-Kuroki) syndrome: a study of 62 patients. Am J Med Genet. 1988 Nov;31(3):565-89.
Lederer D, Shears D, Benoit V, Verellen-Dumoulin C, Maystadt I. A three generation X-linked family with Kabuki syndrome phenotype and a frameshift mutation in KDM6A. Am J Med Genet A. 2014 May;164A(5):1289-92. doi: 10.1002/ajmg.a.36442.
Belengeanu V, Rozsnyai K, Farcaş S, Velea I, Fryns JP. Familial transmission of a dysmorphic syndrome: a variant example of Kabuki syndrome? Genet Couns. 2005;16(2):167-71.
Paulussen AD, Stegmann AP, Blok MJ, Tserpelis D, Posma-Velter C, Detisch Y, Smeets EE, Wagemans A, Schrander JJ, van den Boogaard MJ, van der Smagt J, van Haeringen A, Stolte-Dijkstra I, Kerstjens-Frederikse WS, Mancini GM, Wessels MW, Hennekam RC, Vreeburg M, Geraedts J, de Ravel T, Fryns JP, Smeets HJ, Devriendt K, Schrander-Stumpel CT. MLL2 mutation spectrum in 45 patients with Kabuki syndrome. Hum Mutat. 2011 Feb;32(2):E2018-25.
Hannibal MC, Buckingham KJ, Ng SB, Ming JE, Beck AE, McMillin MJ, Gildersleeve HI, Bigham AW, Tabor HK, Mefford HC, Cook J, Yoshiura K, Matsumoto T, Matsumoto N, Miyake N, Tonoki H, Naritomi K, Kaname T, Nagai T, Ohashi H, Kurosawa K, Hou JW, Ohta T, Liang D, Sudo A, Morris CA, Banka S, Black GC, Clayton-Smith J, Nickerson DA, Zackai EH, Shaikh TH, Donnai D, Niikawa N, Shendure J, Bamshad MJ. Spectrum of MLL2 (ALR) mutations in 110 cases of Kabuki syndrome. Am J Med Genet A. 2011 Jul;155A(7):1511-6.
Kokitsu-Nakata NM, Petrin AL, Heard JP, Vendramini-Pittoli S, Henkle LE, dos Santos DV, Murray JC, Richieri-Costa A. Analysis of MLL2 gene in the first Brazilian family with Kabuki syndrome. Am J Med Genet A. 2012 Aug;158A(8):2003-8.
Badalato L, Farhan SMK, Dilliott A, Care4Rare Canada Consortium, Bulman DE, Hegele RA, Goobie SL. KMT2D p.Gln3575His segregating in a family with autosomal dominant choanal atresia strengthens the Kabu-ki/CHARGE connection. The American Journal of Medical Genetics - Part A. 2017:173;183–189.
Kim J, Lee CG. Coinheritance of Novel Mutations in SCN1A Causing GEFS+ and in KDM6A Causing Kabuki Syndrome in a Family. Ann Clin Lab Sci. 2017 Mar;47(2):229-235.
Tsukahara M, Kuroki Y, Imaizumi K, Miyazawa Y, Matsuo K. Dominant inheritance of Kabuki make-up syndrome. Am J Med Genet. 1997 Nov 28;73(1):19-23.
Lynch SA, Ashcroft KA, Zwolinski S, Clarke C, Burn J. Kabuki syndrome-like features in monozygotic twin boys with a pseudodicentric chromosome 13. J Med Genet. 1995 Mar;32(3):227-30. doi: 10.1136/jmg.32.3.227.
G-Gómez E., C-Pérez J.M., C-García J.J., et al. 2004 A diagnostic conundrum: two siblings with features overlapping the Kabuki and Malpuech syndromes. A new MCA syndrome? The American Journal of Medical Genetics - Part A. 2004;25A:306–9.
Shotelersuk V, Punyashthiti R, Srivuthana S, Wacharasindhu S. Kabuki syndrome: report of six Thai children and further phenotypic and genetic delineation. Am J Med Genet. 2002 Jul 15;110(4):384-90. doi: 10.1002/ajmg.10474. PMID: 12116214.
Ilyina H, Lurie I, Naumtchik I, Amoashy D, Stephanenko G, Fedotov V, Kostjuk A. Kabuki make-up (Niikawa-Kuroki) syndrome in the Byelorussian register of congenital malformations: ten new observations. Am J Med Genet. 1995 Mar 27;56(2):127-31. doi: 10.1002/ajmg.1320560202.
Bögershausen N, Gatinois V, Riehmer V, Kayserili H, Becker J, Thoenes M, Simsek-Kiper PÖ, Barat-Houari M, Elcioglu NH, Wieczorek D, Tinschert S, Sarrabay G, Strom TM, Fabre A, Baynam G, Sanchez E, Nürnberg G, Altunoglu U, Capri Y, Isidor B, Lacombe D, Corsini C, Cormier-Daire V, Sanlaville D, Giuliano F, Le Quan Sang KH, Kayirangwa H, Nürnberg P, Meitinger T, Boduroglu K, Zoll B, Lyonnet S, Tzschach A, Verloes A, Di Donato N, Touitou I, Netzer C, Li Y, Geneviève D, Yigit G, Wollnik B. Mutation Update for Kabuki Syndrome Genes KMT2D and KDM6A and Further Delineation of X-Linked Kabuki Syndrome Subtype 2. Hum Mutat. 2016 Sep;37(9):847-64.
Kawaguchi Y, Imagama S, Iwasaki M, Kaito T, Koda M, Chikuda H, Hasegawa T, Mori K, Yoshii T; 2019 Clinical Practice Guideline for Ossification of Spinal Ligaments working group. Japanese Orthopaedic Association (JOA) clinical practice guidelines on the management of ossification of the spinal ligament, 2019. J Orthop Sci. 2021 Jan;26(1):1-45. doi: 10.1016/j.jos.2020.07.027.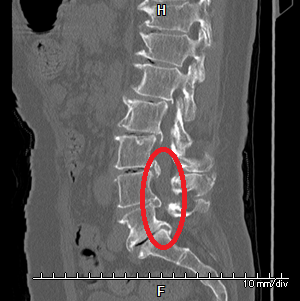 Downloads
Section
Clinical Case Reports
License
Copyright (c) 2022 This work is licensed under a Creative Commons Attribution 4.0 International License.
This work is licensed under a Creative Commons Attribution 4.0 International License.
This work is licensed under a Creative Commons Atribuição 4.0 Internacional License.